One thing most of us don't realize when we start our own business, is the amount of work involved. You're stepping away from the 9-5 routine to more of a 24-7 commitment. Suddenly, you have so many new roles to fulfil:  management, customer care, accounting, marketing, and more, depending on the type of business you run. Sometimes, it just makes sense to outsource the tasks that you don't have the time or expertise to someone who specializes in it.
Here at ContentCafe, we have noticed that many business owners find the process of hiring a freelancer and allowing them access to their information, overwhelming. Objections are usually financial in nature, and sometimes, practical issues seem insurmountable. However, with the tools below, you find that there are many uncomplicated ways to collaborate without necessarily risking your security or having to jump through hoops.
How Do I Keep My Passwords Secure?
Hiring a freelancer from the other side of the world (or in your own backyard) to access websites on your behalf requires giving them your login details… Do you really want to do that? Now remembering passwords is easier than ever with a Last Pass account. All your passwords are managed from a single dashboard, where you can provide
access to your users. It serves two main functions:
centralized password management.
saves time wasted on tracking down and resetting passwords.
If an employee leaves your company, you can simply deactivate their account – no need to change passwords to secure your accounts and notifying everyone of a changed password.
How Do I Get an Employee to Manage My Website Without Breaking It?
WordPress is the simplest CMS available, yet it offers such a diverse range of functions that you can train a new employee to update your events calendar or photo library in no time. Have a copy writer writing your blogs? Ask her to post her work as a draft on your WordPress site and to optimize it for SEO at the same time. Likewise, if you're using guest bloggers, you can create accounts for them on your site, allowing them to upload their posts, which you can then simply approve and schedule. This will save you a tremendous amount of time.
How Do Share Large Files With My Contractor?
Need to send large video or audio files to your freelancer? Need to show them something, but you don't want errant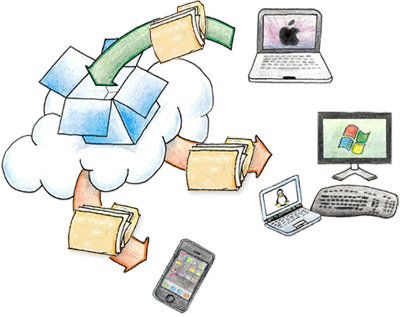 copies of your important data scattered on strangers' computers? Use Dropbox. If you're not yet using Dropbox, you're missing out – even if you don't need to share files with anyone. You can use Dropbox as a remote backup tool, as it is installed on your PC from where it synchronizes the files you wish to back up.
As for collaboration, you could share downloadable or viewable files with your freelancer using any of the many permissions available. This is a truly fantastic tool, and it is FREE!
How Do I Ensure That We're Working Off the Same Version of a Document?
When I first started working (I had a boss for about 5 minutes, once) I once had to redo the changes on a document several times before I got it right, because my boss didn't keep up with my emails containing the latest version of a document. Finding Google Docs was probably one of the happiest days of my life as files can be shared with many collaborators, and changes are visible to everyone in real-time.
How Do I Share a Calendar With My Freelancer?
Do you want your freelance virtual assistant to make appointments on your behalf? Share your
Google Calendar
with her. She will only be able to see the appointments that you share with her, otherwise it will simply block out the time slot in question.
How Do I Hire Someone for Cheap?
Need a quick, once-off task completed at minimal cost? 
Fiverr
is the place to look first. People are prepared to do just about anything, starting at just $5.
How Do I Find a Reliable, Long-Term Contractor?
The purpose of outsourcing is to find a specialist in a specific field. Some of our clients have entire teams of contractors, each dealing with a different aspect of the business. If you're going to hire someone in the long-term, you want to be sure that:
you are hiring a professional,
time is accounted for,
you only pay for work done,
payment is handled professionally,
a contract is in place.
Well,
Upwork
 (formerly oDesk) offers you all of that.
This post contains only a small sampling of benefits of these feature rich tools created for people like us. Did I miss any other important tools? Let me know in comments below.